Duration
15 Days 14 Nights
Max Group Size
16
Minimum Age
12+

i
Fitness Level
Intermediate

i
Meals
Some included

i
Start & End Location
Start: Athens and End: Santorini
What's Included
Get up to 10% cash back when you book with us

All accommodation: Hotels (13 Nights), Overnight Ferry (1 Night)

Meals: 13 Breakfasts, 1 Dinner

Knowledgeable English-speaking local guides

All transport between destinations and activities

Guidance from an amazing G Adventures Chief Experience Officer (CEO) throughout

Guided tour of Ancient Delphi

Samariá Gorge hike

Knossos visit
What to Expect
This 'Best of Greece' 15 Day adventure sure lives up to its name!
Compiling the top moments from some of the best-selling trips in the region, this comprehensive tour through the cradle of Western Civilization brings the distant past and vibrant present into sharp focus.
Between the must-see historical sites of Athens and Delphi, the rugged plateaus of the fabled Samariá Gorge, personal encounters in isolated Cretan villages and the breezy sway of Santorini at sundown, you won't have a moment to waste.
Witness Greece — in all her timeless glory — on this must-do multi-day tour!
Where we visit
Day 1: Athens
As there are no activities planned today, feel free to arrive at any time.
There is, however, an evening welcome meeting where you'll get the chance to meet your CEO and the rest of the group!
Accommodation: Hotel
Day 2: Athens
Enjoy a brief orientation walk with your CEO through Athens. He/she will give you some tips on finding things like supermarkets, main squares, and ATMs with the rest of the day free for you to explore the city.
Afterwards, be enriched and refreshed with drinks and a tour of local non-profit cafe, Shedia Home.
Providing purpose and employment to over 150 individuals experiencing homelessness in Athens, your stop at Shedia Home supports their programs - including the cafe, art program and magazine - all dedicated to supporting the community.
Accommodation: Hotel
Day 3: Athens/Meteora
Take today to travel to Kalambaka, a good base for visiting the monasteries of Meteora.
Transport: You'll travel by train for approx 5 hours today between Athens and Meteora.
Accommodation: Hotel
Day 4: Meteora
Take a bus up to see several of the spectacular 'hanging' monasteries of Meteora.
Meteora translates to 'suspended in the air', which describe the seemingly precarious placement of these historic, sacred structures built at 613m (2011 ft) above sea level, with these monasteries built before any roads or settlements existed in the area.
The rest of the day is yours with free time in the afternoon - so get exploring!
Accommodation: Hotel
Day 5: Meteora/Delphi
Enjoy a visit to the ancient city of Delphi, on Day 5. Located at the base of Mount Parnassos, this UNESCO World Heritage Site includes ancient buildings like treasuries, a stadium, a gymnasium, an altar, hippodrome and the Temple of Apollo.
Dating back to the 4th century BC, over the years, war and earthquakes have destroyed the site but the ruins still standing today offer fantastic insight into the lives of the ancient Greeks.
Feel free to spend the evening exploring the charming little town or relaxing in a small café enjoying the views of the nearby valley.
Transport: You'll travel by private vehicle for approx 5 or 6 hours today between Kalampaka and Delphi.
Accommodation: Hotel
Day 6: Delphi/Náfplio
Described as one of Greece's prettiest towns, today you get to travel to Nafplio where you can explore the beautiful, narrow pedestrian streets and enjoy some free time.
Transport: You'll travel by private vehicle for approx 5 hours today between Delphi and Nafplio.
Accommodation: Hotel
Day 7 Náfplio/Chaniá
With a wealth of ancient sites within easy reach of Nafplio, spend a free day enjoying the area.
Opt to visit the famous Mycenae, also close by, with its spectacular treasury and ruins, or for another lesser-known Mycenean site, visit Tiryns, just in the suburbs of Nafplio itself.
Please note that accommodations on your overnight ferry will consist of 4-berth, mixed gender cabins with a private bathroom and air-conditioning.
Transport: You'll travel by private vehicle for approx 2 hours and 15 minutes today between Nafplio and Piraeus, and then ferry for approx. 8 hours between Athens and Chania.
Accommodation: Ferry
Day 8: Chaniá
Arrive on Crete and enjoy the day relaxing at one of the many harbour-side cafés. Wander the streets of the old town with its fascinating blend of ancient and modern Turkish and Venetian architecture, reflecting the diverse history of the island.
Accommodation: Hotel
Day 9: Chaniá/Agia Roumeli
Start with a scenic drive from Chania to the coastal village of Sfkakia, where you'll then catch a boat to Agia Roumeli.
Here, you'll set off to hike the famous and spectacular Samaria Gorge. On your hike, head towards the narrowest and most impressive part of the gorge, known as the Iron Gates. This makes for a perfect rest spot to enjoy a packed lunch by the river while appreciating the surrounding natural beauty. Continue hiking, returning to Agia Roumeli with plenty of time for swimming or just resting on the beach.
Please bring a day pack with any essentials needed during the hike, and ensure to wear proper hiking attire.
Transport: You'll travel by private vehicle for approx 1 hour and 30 minutes today between Chaniá and Samariá.
Accommodation: Hotel
Day 10: Agia Roumeli/Loutro
Today, travel by ferry to Loutro. The majestic scenery, crystal-clear Mediterranean water, friendly people and peaceful atmosphere all make Loutro an ideal place to relax after all the distance travelled.
Here, opt to rent a kayak and explore secluded beaches and coves. This evening, enjoy a cooking class and dinner with a local family who will share the secrets of home cooked Cretan cuisine.
Transport: You'll travel by ferry for approx 30 minutes today between Agia Roumeli and Loutro.
Accommodation: Hotel
Day 11: Loutro
Enjoy a free day exploring the area. Opt for a swim and tasty seafood meals at secluded restaurants, or hike Aradine Gorge.
Get active or just relax—it's up to you!
Accommodation: Hotel
Day 12: Loutro/Irákleion
Today, your group will travel to Iraklio. Enjoy a visit to Knossos, site of a Minoan palace and residence of King Minos.
Known to be the largest archaeological site of the Bronze Age on Crete. Believed to be the oldest city in all of Europe, explore the ancient palace and surrounding city, discovered in the 1900s by the English archaeologist Sir Arthur Evans.
Transport: You'll travel by ferry for approx 30 minutes today between Loutro and Chóra Sfakíon and by private vehicle from Chóra Sfakíon to Irákleion for approx 3 hours and 30 minutes.
Accommodation: Hotel
Day 13: Irákleion/Santorini
Hop a ferry to beautiful Santorini where you will enjoy two nights on the island.
Fira, the main town, sits perched on the edge of the caldera with breathtaking views of multi-coloured cliffs, sugar-cube architecture and great shopping.
Transport: You'll travel by ferry for approx 4 hours today between Irákleion and Santorini.
Accommodation: Hotel
Day 14: Santorini
Enjoy a free day to explore. Opt for a half-day volcano tour, shopping, relaxing on the beach, or make your way to the crater's rim to savour the breathtaking view.
Don't waste a minute in paradise!
Accommodation: Hotel
Day 15: Santorini
Today is departure day so feel free to leave at any time. Not ready to leave? Your CEO can help with travel arrangements to extend your adventure
Frequently Asked Questions
Simple and clean hotels and hostels; affordable public and private transport; lots of optional activities.
Allow $560 - $730 USD for meals. Eating is a big part of traveling. On this tour, you'll experience the vast array of wonderful food. Generally meals are not included in the trip price when there is a choice of eating options, to give you the maximum flexibility in deciding where, what and with whom to eat. It also gives you more budgeting flexibility, though generally food is cheap. Our groups tend to eat together to enable you to taste a larger variety of dishes and enjoy each other's company. There is no obligation to do this though. Your CEO will be able to suggest favourite restaurants during your trip.
On this trip you can expect to stay in small family-run hotels or pensions (with the exception of the start and finish hotels, which are often larger city hotels), which will vary a little in standard and facilities: some may not have elevators, air-conditioning or English-speaking staff, but most importantly all are locally-run, with some traditional character, and in excellent central locations to give you maximum time for exploring the sights. You can expect to find clean, safe, simple accommodation in convenient locations.
Note that most accommodation in Europe does not have air conditioning units in rooms. Air conditioning is not routinely installed in European homes and workplaces. However, nearly all hotels will provide a standing or desk fan for your room on hot nights. If you do not already have one in your room, please ask your CEO to organize one for you with reception.
For details of your joining hotel please refer to your tour voucher.
This trip uses a range of different transport, including local ferries, buses, and walking (up to 20 minutes with luggage). PLEASE NOTE: You will be responsible for carrying your own luggage at all times, including when embarking and disembarking ferries, and up and down stairs. Most hotels in Greece also do not have elevators.
Space is limited on transportation, so there is a limit of one piece of luggage per person. Please carefully consider your luggage size and weight when packing, and remember that laundry facilities will be available throughout the tour.
Bringing your belongings in a small or medium sized suitcase, preferably a soft bag, will allow you the flexibility to better enjoy your travels on the ground.
Packing List

Documents:
• Flight info (required) (Printouts of e-tickets may be required at the border)
• Insurance info (required) (With photocopies)
• Passport (required) (With photocopies)
• Required visas or vaccination certificates (required) (With photocopies)
• Vouchers and pre-departure information (required)
Essentials:
• Binoculars (optional)
• Camera (With extra memory cards and batteries)
• Cash, credit and debit cards
• Day pack (Used for daily excursions or short overnights)
• Ear plugs
• First-aid kit (should contain lip balm with sunscreen, sunscreen, whistle, Aspirin, Ibuprofen, bandaids/plasters, tape, anti-histamines, antibacterial gel/wipes, antiseptic cream, Imodium or similar tablets for mild cases of diarrhea, rehydration powder, water purification tablets or drops, insect repellent, sewing kit, extra prescription drugs you may be taking)
• Flashlight/torch (Headlamps are ideal)
• Fleece top/sweater
• Footwear
• Hat
• Locks for bags
• Long pants/jeans
• Moneybelt
• Outlet adapter
• Personal entertainment (Reading and writing materials, cards, music player, etc.)
• Reusable water bottle
• Shirts/t-shirts
• Sleepwear
• Small travel towel
• Sunglasses
• Toiletries (Preferably biodegradable)
• Watch and alarm clock
• Waterproof backpack cover
• Windproof rain jacket
Health & Safety:
• Face masks (required)
• Hand sanitizer (required)
• Pen (Please bring your own pen for filling out documents.)
• Rubber gloves
Warm Weather:
• Sandals/flip-flops
• Shorts/skirts (Longer shorts/skirts are recommended)
• Sun hat/bandana
• Swimwear
All visitors to the EU (European Union) and EEC (European Economic Community) countries require a valid passport (with a minimum 6 months validity). USA, Canada, Australia and New Zealand passport holders do not need a visa to visit the Schengen area (see below), however they may not stay longer than three months in any 6-month period.
While conventions can vary from country to country, tipping is customary in Europe. A general rule is 10% of the bill for wait staff, and a smaller amount (€1 or €2) for other service providers.
Tipping is an expected - though not compulsory - component of your tour program, and an expression of satisfaction with the persons who have assisted you on your tour. Although it may not be customary to you, it is of considerable significance to the people who will take care of you during your travels.
Reviews for 15 Day Best of Greece Tour
21 reviews
Total review count and overall rating based on Backpackerdeals and Travello reviews.
We'd love to hear about your experience! Share your feedback with us, and get rewarded!
Policies
Terms & Conditions:
The minimum age for clients traveling on this tour is 12

An adult over the age of 18 must accompany each child under the age of 18. It is imperative that one adult accompany each child

The supplier reserves the right to restrict the number of travelers under the age of 18 on tours

Date of birth must be submitted for this product

Please note that for departures during April and October there may be variations on this itinerary, depending on season & weather conditions. Ferry schedules may be affected and access to Samaria Gorge may be limited or blocked
Cancellation Policy:
For a tour departing between January 19, 2022 and April 30, 2023, travellers will be permitted to cancel their confirmed tour services, pre- or post tour accommodation services, extra services, or transfer services at any time prior to 14 days from the date of tour departure at no charge if they also rebook another tour service and/or reschedule travel to a later date, which later date must be within two years of the initial departure date.

The traveller must rebook their deferred travel at the same time as their cancellation in order for the policy to be applicable.

For tours booked to depart between January 19, 2022 and April 30, 2023, the traveller will be responsible to pay the difference if the rebooked tour is priced higher than the original tour and will receive a travel credit for the difference that will be kept on file with The Supplier for two years from the date of rebooking if the rebooked tour is priced lower than the original tour.

Our expert CEOs will always put your safety first and in cases of unforeseen, weather-related changes, they may cancel a day's activity at their discretion. An alternative will be offered where possible to do so.
All customer cancellation & refund requests are also subject to our website's own refund conditions.
Tour Operator
G Adventures Europe
Athens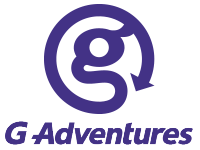 Flexible booking
Book your experience stress-free and know we're here to help.
Get Instant Confirmation