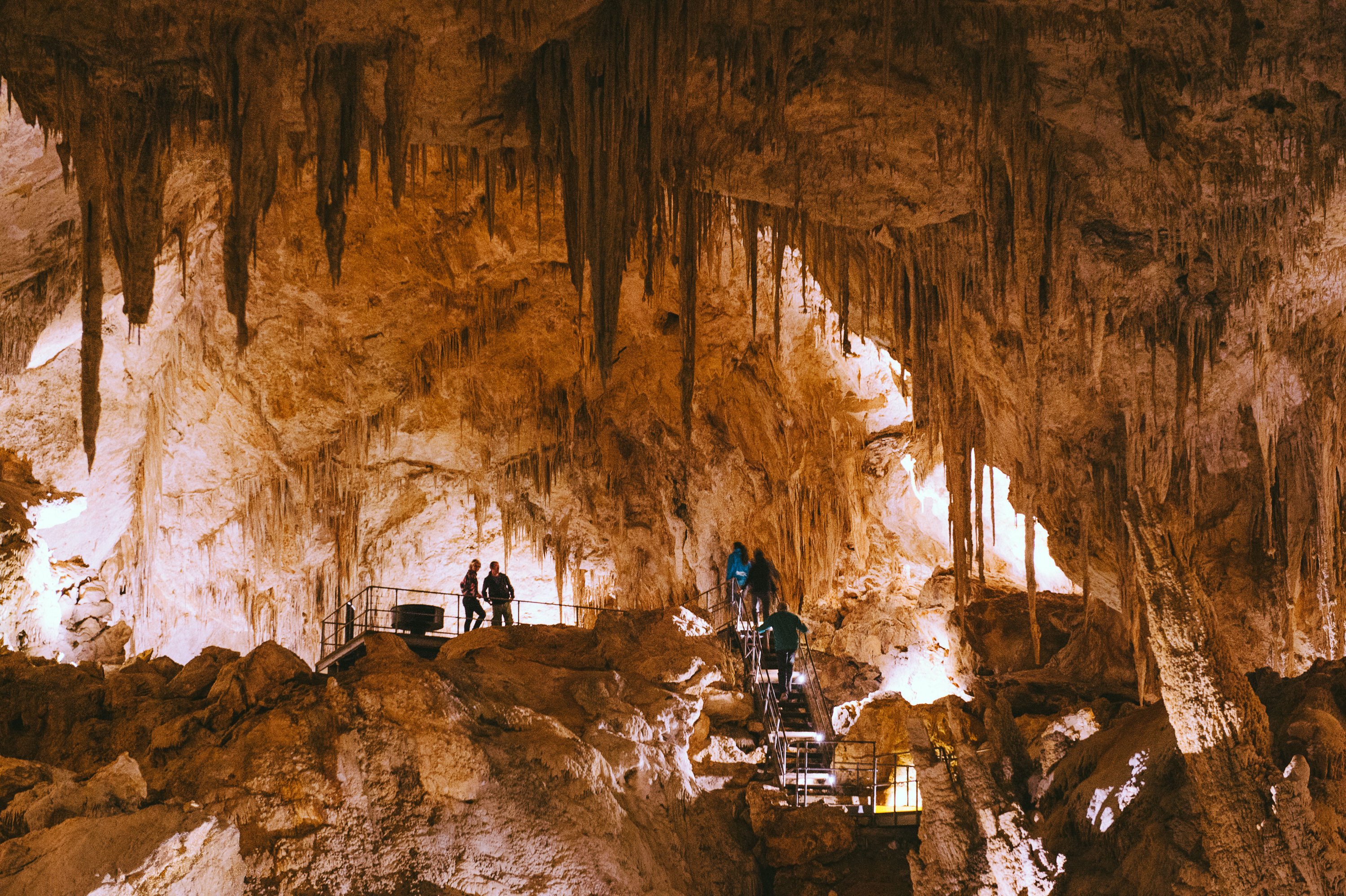 Instant confirmation
What's Included
Self-guided audio tour of Mammoth Cave
WHAT TO EXPECT
Mammoth Cave is the most easily accessed of all the show caves in the region, with the first chamber accessible by wheelchair. It is a self-guided cave, where you explore on your own while listening to an informative 'audio tour' through the MP3 player and headset provided. You are free to wander at your own pace along the boardwalks and platforms, through the majestic chambers of the cave.
The site of one of Australia's most important paleontological digs in the early 1900s, the cave still contains the fossilized jawbone of a long-extinct giant marsupial species, embedded within the limestone wall — 50,000 years after the animal roamed the forests above.
Entering the cave through bushland via a gently sloping boardwalk, you'll realise just how much there is to see here. Over 10,000 fossils had at one time accumulated inside the cave; upon excavating many of these were found to be remains of Australian Megafauna (giant animals) that became extinct around 46,000 years ago.
A visit to Mammoth Cave finishes with a winding walk through the beautiful marri forest, with whistling birds and stunning flora displays. Mammoth Cave is much more than a cave – it is a complete nature experience.
Where we visit:
Mammoth Cave Self-Guided Audio Tour
11:00AM - 12:00PM

Monday, 29-04-2016

11:00 AM - 12:00PM

How many participants are there?

Minimum unit order: 1 persons.
Maximum unit order: 1 persons.
*Top Deals and Last Minute deals pricing is available for limited spaces
Terms & Conditions:
Tickets purchased are valid for the day of purchase only
Visitors are required to report to the ticket counter a minimum of 10 minutes prior to tour departure time
Visitors participate in the cave tour activity at their own risk
All children aged 4-16 years must be accompanied by an adult
Cancellation Policy:
A full refund will be provided for cancellations received by close of business (5.00 pm WST) on the day prior to the tour booking
Cancellations later than close of business (5.00 pm WST) on the day prior to the booking, will be charged the full cost of the booked tour
Read full supplier's terms & conditions
Check Availability

Instant confirmation

Add to wishlist

Added to wishlist
Best Price Guarantee

Free & Easy Cancellation

Up to 10% Cashback

100,000 5 Star Reviews