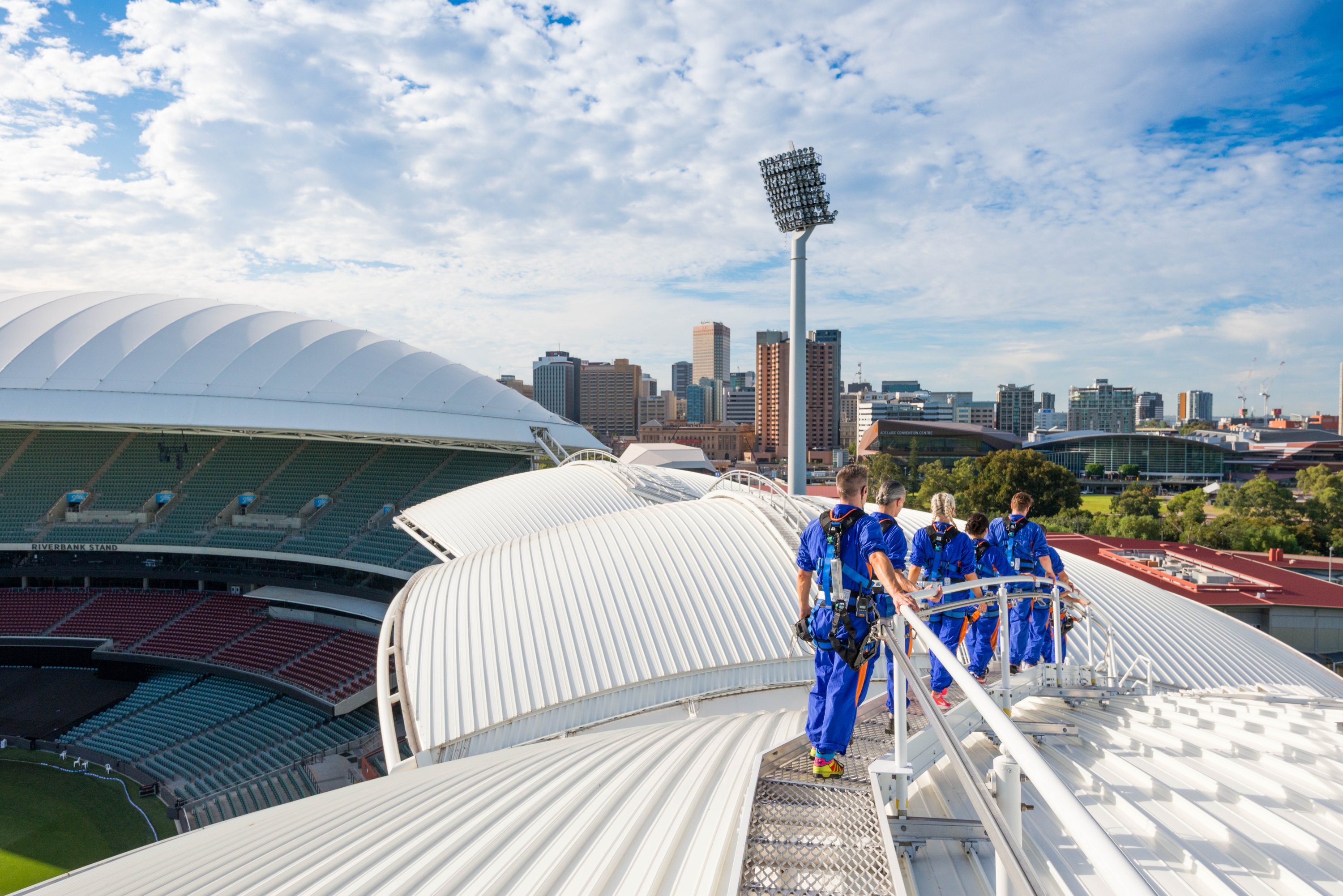 Child (8-15 years):
AUD $
75

Instant confirmation
What's Included
Use of all safety equipment
RoofClimb cap
Achievement certificate
Printed 6x8 inch groups photograph
WHAT TO EXPECT
Whether you're into sports or not, the Adelaide Oval RoofClimb is a once-in-a-lifetime experience. You'll take in incredible 360-degree views of Adelaide from the foothills to the coast and everything in between – there's blue sky stretching in all directions.
Discover the colourful and quirky stories that make Adelaide so unique as you venture over the roofline. Your experienced RoofClimb Leaders will guide you across the rooftop, along the purpose-built path. The adventure starts in the Western Stand, before making your way around to the Riverside Stand. Here you'll discover a world-first – stadium rooftop seating! Have a sit in one of the 16 chairs that are positioned 50 metres above the hallowed turf, and take a moment to sit back, relax, and really soak in the views of the city skyline.
Then, elevate your heart rate even further and get a huge adrenaline rush by leaning out, over the ground, tethered only by your safety harness. It's the ultimate thrill and gives you a brand new perspective on the venue.
The experience includes the provision of safety equipment and RoofClimb suit, safety briefing and a personal secure locker to store your belongings during your experience. You'll also get to take home a RoofClimb Cap, an achievement certificate, and a printed group photo. You can purchase additional photo packs.
Check Availability

Next available:

24 Jan 2022
11:00AM - 12:00PM

Monday, 29-04-2016

11:00 AM - 12:00PM

How many participants are there?

Minimum unit order: 1 persons.
Maximum unit order: 1 persons.

Child (8-15 years)

:

AUD $

75
*Top Deals and Last Minute deals pricing is available for limited spaces
Terms & Conditions:
Participants must arrive at the South Gate of Adelaide Oval and register at the RoofClimb Centre at least 15 minutes prior to the departure time of your RoofClimb. If you arrive after the registration time, AO reserves the right to refuse to allow you to climb, and you will not be entitled to a refund
Participants must be 8 years of age or over; satisfy any height and/or weight requirements; be in good health, and may be required to undergo a test to assess whether they are capable of completing a RoofClimb
Children between the ages of 8 and 15 inclusive must be accompanied by a paying adult on a RoofClimb, provided that each adult is accompanied by no more than three children
The operator may, in its sole discretion, refuse to allow you to participate in a RoofClimb (even if you believe you are able to safely participate), if in the operator's reasonable opinion, the RoofClimb or your participation in the RoofClimb may adversely affect your safety, physical or psychological condition, or the safety of directors, employees, agents and contractors or other climbers
You will be required to complete a RoofClimb Declaration and Disclaimer Form prior to being allowed to participate in the RoofClimb. If you are under 18, a RoofClimb Declaration and Disclaimer Form must be signed on your behalf by a parent or legal guardian
You are not permitted to take any items on the RoofClimb (including without limitation items such as cameras, mobile phones, handbags, or any personal items), and must remove any loose items ordinarily worn on the body (including rings, earrings and other jewellery). You will be provided with a locker for storage of any non-valuable personal belongings
Cancellation Policy:
The operator reserves the right to cancel or reschedule any RoofClimb without notice in its absolute discretion, including for reasons of safety, security, due to restricted access or due to any matters out of the reasonable control of the operator.
If a RoofClimb is cancelled, your RoofClimb will be rescheduled subject to availability or exchanged for a gift card. The operator reserves the right to vary operating hours and RoofClimb times without notice.
Tickets purchased for RoofClimb are non-refundable. Changes cannot be made to your specific booking date or time within one week (7 days) in advance of the climb.
Read full supplier's terms & conditions
Child (8-15 years):
AUD $
75
Check Options

Instant confirmation

Add to wishlist

Added to wishlist
Best Price Guarantee

Free & Easy Cancellation

Up to 10% Cashback

100,000 5 Star Reviews